Penn State's Music Therapy Club provides service to community through music
By Katie Litwin | Collegian Staff Writer | Posted: Friday, February 6, 2015 3:00 am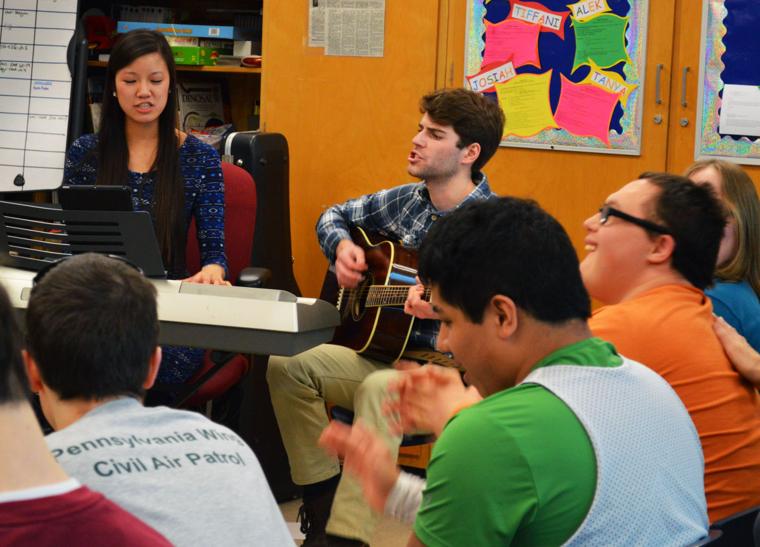 Lai and Lingwall Perform
Michelle Lai (sophomore-biology) and Noah Lingwall (sophomore-history and global & international studies) play music for students at the HUB on Thursday, Feb. 5, 2015. Lai and Lingwall are president and vice president, respectively, of the Penn State Music Therapy Club.
Though it was only founded in fall 2014, the Penn State Music Therapy Club is making a statement as an ideal organization for those interested in both music and service.
The interests of the club go beyond just sharing a love of music, President Michelle Lai said. Its members also serve the community by playing at local hospitals, nursing homes and just about any rehabilitation area that will reserve a time for them.
Music Therapy Club Vice President Noah Lingwall said his interest for the club began after seeing it at the activity fair.
"I played musical instruments in high school and did the same sorts of service," Lingwall said.
At meetings, Lingwall (sophomore-history and international studies) said they try to cover both aspects of the club — service and music.
"We discuss various types of music and how music can help people, the positive effects of it, what places are in need of it and how it can best be served," Lingwall said.
Lai (sophomore-biology), who is also the founder of the club, said she conceived the idea when she came to Penn State and saw "there was a need to express musical talent and use that talent to help other people."
The Music Therapy Club reaches out to surrounding venues and works with them to get a time slot to play, Lai said.
Marla Yukelson, program coordinator for LifeLink PSU, said the Music Therapy Club has supported her efforts in helping students with special needs between the ages of 18-21 connect with students of the same age to continue growth.
Yukelson said the club plays for the students once a month.
"The club always plays current songs that they know so it's been a wonderful experience for our students," she said.
Besides this, Lai said they also reach out to surrounding nursing homes.
"We try to play music from that time period, and engage the audience through sing-alongs," Lai said. "For some it is enjoyable because they used to be able to play and can't now."
Though audiences have varying experiences, Lai said they are always asked to return.
Lingwall said a prevalent memory in his mind is when they played at Juniper Village at Brookline nursing home. An elderly woman approached him and happily shared a memory of her brother who had passed away, but had incredible musical talent at a young age.
"I was really pleased that I was able to bring her back to a happy memory," Lingwall said.
Lai recalled a time when the club went to a nursing home and a woman could not find the room and missed the performance. Lai said the woman came in upset but Lingwall pulled up a seat and played a song specifically for her.
"It was so sweet and just shows how much they truly appreciate listening to the music," she said.